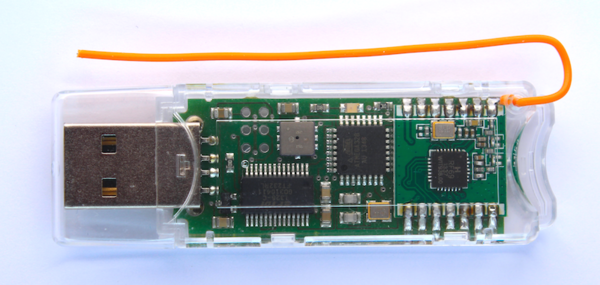 Smallest Receiver for Davis® Sensors (... and more)

The smartbedded "Meteostick" is a major achievement to read out Davis® weathers station live data with minimal hardware components. What the USB-stick shaped Meteostick does is receiving RF data from the weather station sensors (US, EU and Australia Models)and providing these to a computer or embedded system like Meteohub/Meteobridge connected via USB in terms of a simple serial data stream. On top of that the Meteostick firmware does compute the weather data burried in the sensor data packets plus adding barometer data to it from a sensor placed in the Meteostick. So you get all the live data from your Davis® stations in the backyard with an extremely unobtrusive piece of hardware.
Metostick allows to read sensor data from Davis® VantageTM Pro2, VantageTM Pro2 Plus and VantageTM Vue sensors. This includes
integrated sensor suites ISS
additional sensors temperature/humidity stations
additional wind or rain stations
additional soil/leaf stations

Read-out is done parallel to the Davis consoles, so you have no interfering with any PC solution that uses a data logger connected to the console or Envoy. Meteostick is fully integrated into latest releases of Meteobridge and Meteohub. While Meteobridge only supports one integrated sensor suite, Meteohub (version 4.9x) can read out data from up to 8 stations in parallel. Third party software can be easily adapted to also make use of Meteostick, as the protocol how to interact with Meteostick in terms of a serial connection via USB is fully documented.
Remark: Caused by the form factor RF reach of Meteostick is not as extended as with Davis® Console or Envoy but can be expected fine up to 100 meters. To achieve good RF reception Meteostick should be used in combination with a vertical USB stand (picture on the right) and should be placed away from shielding metals and other RF sources (PC, Router, etc).
For more details, please have a reading of the manual here. Most recent firmware for Meteostick can be found here.
New Feature

Metostick is now able to also read RF data from outdoor sensor unit of Fine Offset HP-100x weather stations, also sold by Ambientweather as WS-100x weather observer or as WiFi weather station from Conrad/ELV as HP-100x. Meteohub/Meteoplug/Meteobridge are able to read data from the outdoor sensor WH24 via the Meteostick in both frequency bands (915 MHz US and 868 MHz EU). Indoor sensor WH25 is not supported. The sensor unit provides the following types of sensor data:
wind direction, wind speed, gust speed
rain total
temperature, humidity
solar radiation
uv index
Meteostick Price and Availability
End consumer retail price is 159 Euro (in EU including shipping)
NO DELIVERY TO THE UK caused by issues with UK VAT handling!
availability: in stock
reseller requests are welcome
for details please contact "info(at)smartbedded.com"
Please note that we don't ship to the US. Please have a look at our reseller ambientweather.com who is selling Meteosticks as "Airbridge Receiver".
Customers from the EU can purchase a Meteostick for 159 Euro via PayPal directly from smartbedded UG. Price includes shipment to a country in the EU.

Resellers that have Meteostick as well as fully licensed Metehub/Meteobridge system in stock are listed below:
Miniaturempfänger für Davis®-Sensoren (... und weitere)

Der "Meteostick" von smartbedded UG ist eine schlanke Lösung, um Livedaten der Sensoren von Davis® Wetterstationen per Funk auszulesen (Modelle aus US, EU und Australien). Der Meteostick wird mit einem PC oder embedded-System per USB verbunden und stellt die empfangenen Daten der Sensoren als simplen seriellen Datenstrom zur Verfügung. Die Meteostick firmware extrahiert zudem die iin den Funkdaten enthaltenen Messwerte und fügt den vom Meteostick selbst gemessenen Luftdruck als weitere Information hinzu. Man erhält also all die Daten seiner im Garten stehenden Wetterstation mit einem minimalistischen Empfänger zur Auswertung auf einem Computer angeliefert.
Meteostick kann die Sensordaten der Davis® VantageTM Pro2, VantageTM Pro2 Plus und VantageTM Vue empfangen. Dies beinhaltet
integrierte Sensoreinheiten (ISS)
zusätzliche Temperatur-/Feuchtestationen
zusätzliche Regenstationen
zusätzliche Windstationen
zusätzliche Boden- und Blattfeuchtestationen

Das Empfangen der Daten erfolgt parallel zur Davis-Konsole, man hat also keine Nebenwirkungen auf Verarbeitungsketten die bereits mit Hilfe eines an die Konsole angeschlossenen Datanloggers vorhanden sind. Meteostick ist in die neuesten Versionen von Meteobridge und Meteohub (ab Version 4.9x) voll integriert. Während mit Meteobridge nur eine integrierte Sensoreinheit empfangen werden kann, erlaubt Meteohub das gleichzeitige Auslesen von bis zu 8 Sensorstationen. Software anderer Hersteller oder Eigenentwicklungen können ebenfalls leicht an Meteostick angepasst werden, da das serielle Kommunikationprotokoll zwischen Meteostick und PC dokumentiert ist.
Hinweis: Die Empfangsreichweite des Meteostick ist bauartbedingt nicht so hoch wie die der Davis® Konsole oder Envoy. Entfernungen bis zu 100 Meter sollten aber kein Problem sein. Um eine gute Empfangsleistung zu erzielen, sollte der Meteostick senkrecht aufgestellt werden, z.B. wie abgebíldet in einem USB-Ständer mit Verlängerungskabel, und möglichst weit von schirmenden Metallteilen und Störquellen wie Router oder PC aufgestellt werden.
Für weitere Details bitte das Handbuch hier lesen. Die aktuellste Firmware für den Meteostick kann man hier herunterladen.
Neues Feature

Metostick kann nun auch die Funksignale der Aussensensoreinheit WH24 der Fine Offset Wetterstation HP-100x empfangen und auswerten. Diese Station wird von Ambientweather als Weather Observer WS-100x und von Conrad/ELV als WiFi-Wetterstation HP-100x vertrieben. Die Daten des Innensensors WH25 kann der Meteostick nicht auswerten. Meteohub/Meteoplug/Meteobridge unterstützen die Auswertung des Aussensensors in den EU- und US-Frequenzbändern. Die Aussensensoreinheit liefert die folgenden Messdaten:
Windrichtung, Windgeschwindigkeit, Böengeschwindigkeit
Regenmenge
Temperatur, Luftfeuchte
Solarstrahlung
UV-Index
Preis und Lieferzeit des Meteostick
Endkundenpreis ist 159 Euro
Verfügbarkeit: auf Lager
Händleranfragen erwünscht
Für Details bitte "info(at)smartbedded.com" kontakten
Kunden in der EU können einen Meteostick für 159 Euro inklusive Versand direkt bei smartbedded UG per PayPal bestellen.
Vertriebspartner, die Meteostick und komplett lizenzierte Pakete inklusive Meteohub/Meteobridge anbieten, sind anhängend aufgeführt: